Title:
Starway to Heaven
Author:
tomoe_daeva
Beta:
rayneuke
(
Rayne
)
Fandom:
Fullmetal Alchemist
Pairing:
Frank Archer x Zolf J. Kimbly
Rating:
G,G,R,R,NC-17,PG-13,G
Theme A:
All (One shot - one kill XD)
NOTE:
So, yay, a conceptual experiment of fanarts+drabbles.
Anime reference: episodes 32-39~41
. GREED
-Will you be mine,- Archer winced as he corrected himself -I mean...
My
subordinate?-
Kimbly gazed silently at the man's grip on his sweater.
It seemed that he was just going from one jailer to the next.
. PRIDE
-...Thanks to his testimony, the mystery of the Laboratory is being solved.-
Kimbly smirked at his superior's
perfection
and at Flame's repressed rage.
It had been a good deal, after all.
. ENVY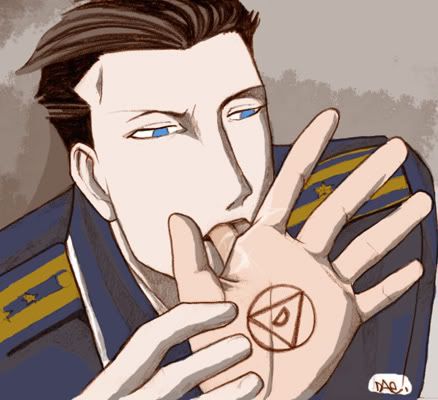 Archer licked his alchemist's hand with ease and devotion, staring at the mortal signs and getting excited at the power they held.
He wanted that same kind power; he wanted to BE that power.
-Suck me,
please
...- hissed Kimbly through his teeth while caressing Archer's toungue with a finger -...You're so good at it.-
Archer just bent down, lips pressing against the other's length before he took it completely into his mouth.
If he couldn't be like Kimbly, at least he'd take everything that he had to offer.
. WRATH
-Why? Why did you do something so
stupid
?!-
That morning Kimbly was greeted by the cold barrel of Archer's gun on his cheek, instead of those sweet lips.
-I told you to not go outside of your room! I told you to keep yourself quiet and don't catch other's eyes! And what the fuck did you do instead..?- he blocked one of Kimbly's hands raised to calm him -You fucked with Mustang's subordinates and destroyed part of the camp! Do you understand that I can't protect you if you do such bullshit?! Do you understand you are fucking with my
reputation
here?!-
Kimbly knew how to manage this. He just had to shut his mouth and wait.
. LUST
-...Do you feel better, now..?- whispered Kimbly, lips only inches from Archer's ear as he pounded into the other.
The Colonel's wet moan was a more than sufficient answer.
. GLUTTONY
-Are you hungry..?- asked Archer, handing a bowl of strawberries to his Alchemist.
-No, I'm not.- was Kimbly's reply as he stared at the red berries.
Archer took one of them with his careful white fingers. Kimbly followed the movement; from the bowl to his mouth, his lips sucking, his teeth tearing, his tongue curling over the fruit. Kimbly simply watched, golden eyes rapt on the action.
He stopped Archer's hand, this time taking the strawberry into his own mouth.
Archer glanced amused at the lust in his eyes.
-Are you hungry..?- asked Archer again.
-I am not.- answered Kimbly while licking his lips.
. SLOTH
When Kimbly opened his eyes it was already late evening, the sky was painted with a burnished orange hue which seemed to spread to the walls and sheets that surrounded him.
It was time to go, then.
He turned his eyes to the figure next to him, focusing on the solid and powerful musculature of Archer's back and shoulders, listening to that regular and calm breathing from the other.
Kimbly found himself breathing at the same rhythm.
Instantly, his limbs and eyelids became heavy and stiff due to a sudden unknown feeling.
"When I get back" Kimbly thought smiling "I'll let him be on the top."
He didn't dare to kiss that exposed sculpted neck.